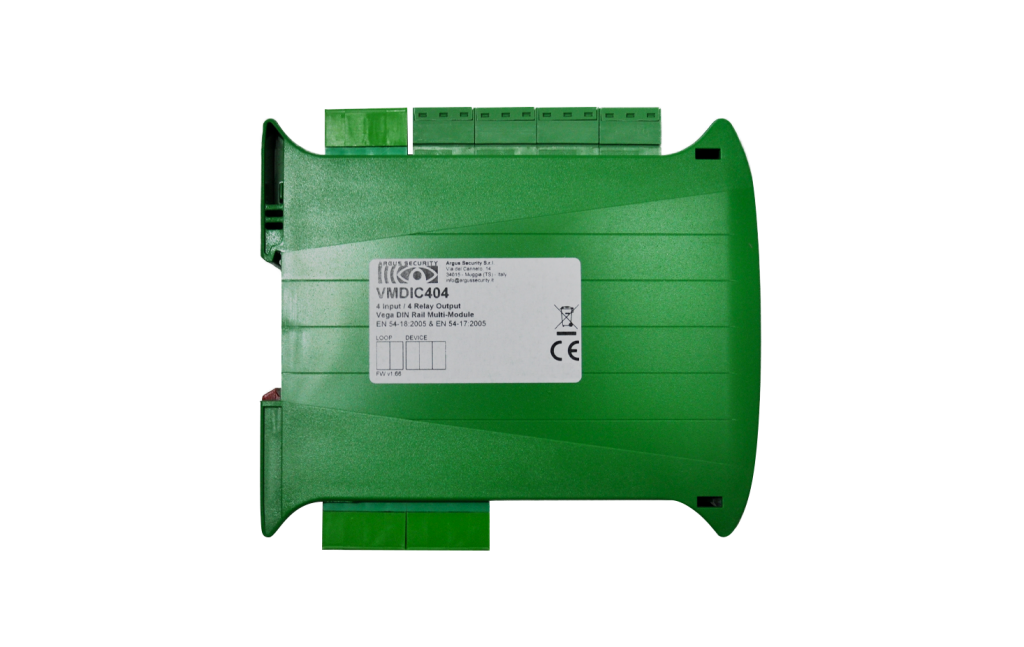 Informations
Description
The VMDIC404 is composed by 4 input channels and 4 relay outputs.
The Vega DIN rail module series is a family of microprocessor controlled interface devices permitting the monitoring and/or control of auxiliary devices. The Vega digital communication protocol utilised by the monitoring control panel provides for high rates of information exchange in combination with particular features that ensure fast and secure responses. LED indicators (red, green, yellow) are activated by the control panel. The DIN rail modules are powered by the loop.
VMDIC422
Composed by 4 inputs channels, 2 supervised output channels and 2 relay output channels
VMDIC602
Composed by 6 input channels and 2 relay output channels.
Technical specifications
Compatible communication / control protocol: Vega analogue-intelligent protocol
Vega protocol voltage range: From 4V to 42V
Device operative voltage range: From 18V to 40V
Standby current consumption: 500 uA at 24V
Operating temperature range: From -10 °C (min) to +55 °C (max)
Humidity: 85% RH
Dimensions: 120 x 100 x 20 mm
Weight: 100 grams
Compatible DIN rail type: Top hat rail type, 35x 7.5 / 35 x 15mm
Applicable wire gauge range: From 0.5mm² to 2.5mm²